Prince Abbas Mirza
Prince Abbas Mirza, 1821.

Some attributes

First
Name: Abbas Mirza
Second
Position: Crown prince of Persia
Third
Nationality: Iranian

Other attributes

Fourth
Allegiance: Qajar Dynasty
Fifth
Born: 26 August 1789
Sixth
Died: 25 October 1833 (aged 44)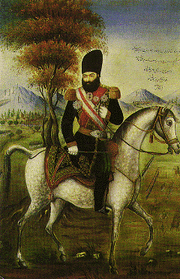 Abbas Mirza (عباس میرزا in Persian) born in Nava village of Mazandaran (26 August 1789 – 25 October 1833), was a Qajar crown prince of Persia. He developed a reputation as a military commander during wars with Russia and the Ottoman Empire, as an early modernizer of Persia's armed forces and institutions, and for his death before his father, Fath Ali Shah. Abbas was an intelligent prince, possessed some literary taste, and is noteworthy on account of the comparative simplicity of his life.
He was a younger son of Fath Ali Shah, but on account of his mother's royal birth was destined by his father to succeed him. Entrusted with the government of the Azerbaijan region of Persia, he sought to rule it in European fashion, and employed officers to reorganize his army. He was soon at war with Russia (1804–13), and his aid was eagerly solicited by both England and Napoleon, anxious to checkmate one another in the East.
Preferring the friendship of France, Abbas Mirza continued the war against Russia's General Kotlyarevsky, but his new ally could give him very little assistance. Kotlyarevsky defeated the numerically superior (30,000) Persian army in the Battle of Aslanduz and in October, 1813, Persia was compelled to make a disadvantageous peace, ceding some territory in the Caucasus (present-day Georgia, Dagestan, and most of the what most recently became the Republic of Azerbaijan).
These losses forced Abbas to rethink his strategy, and he started sending his officers to Europe for military training. In 1811 and 1815, two groups were sent to Britain, and in 1812 a printing press was established in Tabriz to reprint European military handbooks. Tabriz also saw a gunpowder factory and a munitions depot. The training continued with constant drilling by British advisers.
He gained some victories during the Ottoman–Persian War (1821–1823), resulting in a peace treaty signed in 1823 after the Battle of Erzurum (in which the Persians were heavily outnumbered with 30,000 men against the Turks with 50,000 men). The war was a victory for Persia, especially considering they were outnumbered, and this gave much needed confidence to his forces.
His second war with Russia, which began in 1826, started off on a good note. On 28 July 1826, a 35,000-strong Persian army led by Abbas Mirza, crossed the border and invaded the Khanates of Talysh and Karabakh. The Khans quickly switched sides and surrendered their principal cities — Lenkoran, Quba, Baku — to the Persians.
Aleksey Yermolov, Russia's General Governor of Caucasus, feeling that he did not have sufficient resources to counter the invasion, refused to commit Russian troops to battle and ordered Ganja, the most populous city in the Southern Caucasus, to be abandoned.
In Shusha, a small Russian garrison managed to hold out until 5 September when General Madatov's reinforcement arrived to their relief. Madatov routed the Persians on the banks of the Shamkhor River and retook Ganja on the 5th September. On hearing the news, Abbas Mirza lifted his siege of Shusha and marched towards Ganja.
A new Russian reinforcement under Ivan Paskevich (Yermolov's replacement) arrived just in time to join their forces with Madatov and to form a 8,000-strong corps under Paskevich's supreme command. Near Ganja they fell upon the Persians and forced them to retreat across the Araks River back to Persia. The attack was repulsed, but the war was to continue for a year and a half.
The onset of winter weather led to the suspension of hostilities until May 1827, when Paskevich advanced towards Erivan, taking Echmiadzin, Nakhichevan and Abbasabad on his way. The principal war theatre was now Eastern Armenia, whose capital, Erivan, was stormed and captured by Paskevich after six days of siege (October 1). Fourteen days later, General Eristov entered Tabriz, forcing the Shah to sue for peace.
The outbreak of the new Russo-Turkish War revived Persian hopes and hindered peace negotiations, which were conducted by Aleksandr Griboyedov, among others. In January 1828 a Russian detachment reached the shores of Lake Urmia and the Shah started to panic. On his urging, Abbas Mirza speedily signed the Treaty of Turkmenchay (February 2, 1828) which concluded the war. Persia was forced to cede nearly all of its Armenian territories and Nakhchivan.
The losses affected Abbas Mirza severely and his health began to suffer. He also lost enthusiasm for any more military reform. In 1833, he sought to restore order in the province of Khorasan, which was nominally under Persian supremacy, and while engaged in the task died at Mashhad in 1833. In 1834 his eldest son, Mohammed Mirza, succeeded Fath Ali Shah as the next king. R. G. Watson (History of Persia, 128-9) describes him as "the noblest of the Qajar race".
He is most remembered for his valor in battle and his failed attempts to modernize the Persian army. He was not successful, in part due to the lack of government centralization in Iran during the era. Furthermore, it was Abbas Mirza who first dispatched Iranian students to Europe for a western education.