Charles Leclerc
Charles Leclerc by François-Joseph Kinson (1771–1839)

Some attributes

First
Name: Charles Leclerc
Second
Position: Général de division
Third
Nationality: French

Other attributes

Fourth
Allegiance: First French Republic
Fifth
Born: 17 March, 1772
Sixth
Died: 1 November, 1802 (aged 30)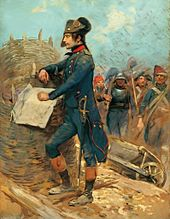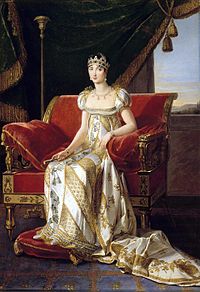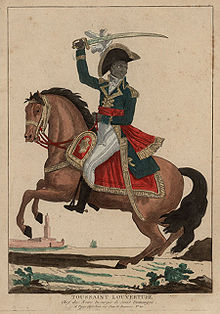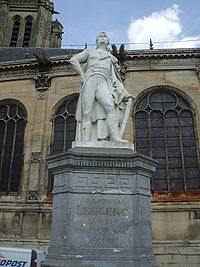 Charles Victoire Emmanuel Leclerc (17 March 1772, Pontoise – 2 November 1802) was a French Army general and husband to Pauline Bonaparte, sister to Napoleon Bonaparte. Leclerc started his military career in 1791 during the French Revolution as one of the army volunteers of Seine-et-Oise and passed through the ranks of sous-lieutenant in the 12th Cavalry, then aide-de-camp to general Lapoype. He was made a captain and divisional chief of staff during the siege of Toulon, at which he first allied himself to Napoleon Bonaparte. Following the revolutionary success there, he campaigned along the Rhine.
He began serving under Napoleon Bonaparte in the Alpine and Italian campaigns, fighting at Castiglione della Pescaia and Rivoli and rising to général de brigade in 1797. He was then charged with announcing to the French Directory the signature of the peace preliminaries at Leoben. Pauline Bonaparte was at this time receiving a large number of suitors, thus pressing her brother Napoleon Bonaparte to have her married off. On Leclerc's return, he accepted Bonaparte's offer of Pauline's hand in marriage and they married in 1797, having one child, and occupying the Château de Montgobert.
He became chef d'état-major to generals Berthier and Brune and served in the second unsuccessful French Army military expedition to Ireland led by Jean Joseph Amable Humbert in 1798. On Bonaparte's return from the Egyptian expedition in 1798, he made Leclerc a général de division and sent him to the armée du Rhin under Moreau. At this rank Leclerc was able to participate in the coup d'etat of 18 Brumaire (in November 1799) that made his brother-in-law Napoleon First Consul of France - supported by Murat, he ordered the grenadiers to march into the room of the Council of Five Hundred. He was next noted for his participation in the Rhine campaign and the battle of Hohenlinden, receiving the supreme command of the 17th, 18th and 19th military divisions. He then passed from that post to being commander-in-chief of an army corps that Napoleon meant to send to Portugal to force it to renounce its alliance with England, though that expedition never took place.
Leclerc's brother-in-law, the first Consul, then appointed him commander of the expedition to re-establish control over the French colony of Saint-Domingue (now Haïti).French officials had abolished slavery in Saint-Domingue in August to October 1793, and the former slave, general Toussaint Louverture, had established a government with constitution appointing himself President for life, although he still swore loyalty to the French nation. Leclerc set off from Brest in December 1801 and landed at Cap-Français in February 1802, with other warships and a total of 40,000 troops, publicly repeating Bonaparte's promise that "all of the people of Saint-Domingue are French" and forever free.
L'Ouverture's harsh discipline had made him numerous enemies and Leclerc played off the ambitions of L'Ouverture's younger key officers and competitors against each other, promising that they would maintain their ranks in the French Army and thus bringing them to abandon L'Ouverture. The French won several victories and regained control in three months after severe fighting, with L'Ouverture forced to negotiate an honorable surrender and to retire to tend his plantations under house-arrest. However, Napoleon had given secret instructions to Leclerc to arrest Toussaint Louverture, and so Leclerc seized L'Ouverture - during a meeting - for deportation to France, where he died while imprisoned at Fort-de-Joux in the Jura mountains in 1803.
Despite his superiors' warnings, Leclerc did not consolidate his victory by disarming L'Ouverture's old officers and they and the black and Creole population rose up again when news reached the island of the reestablishment of slavery on Guadeloupe, bringing the prospect of a similar restoration on Saint-Domingue and swinging the tide inexorably against French hopes for reimposing control. Leclerc's reports to France about his counter-insurgency campaign included such statements as, "Since terror is the sole resource left me, I employ it", and, "We must destroy all the mountain negroes, men and women, sparing only children under twelve years of age. We must destroy half the negroes of the plains".
Haitian prisoners were regularly tortured and killed, and their heads were mounted on the walls of stockades or on spikes beside the roads. Non-combatants, too, were raped and slaughtered. According to contemporary accounts, the French used dogs to rip black prisoners to pieces before a crowd at an amphitheatre. Allegdly on Leclerc's orders, sulphur was extracted from Haitian volcanoes and burned to produce poisonous sulphur dioxide, which was then used to gas black Haitians in the holds of ships - more than 100,000 of them, according to records.
The use of these primitive gas chambers was confirmed by contemporaries. Antoine Metral, who in 1825 published his history of the French expedition to Haiti, writes of piles of dead bodies everywhere, stacked in charnel-houses. "We varied the methods of execution", Metral wrote, "At times, we pulled heads off; sometimes a ball and chain was put at the feet to allow drowning; sometimes they were gassed in the ships by sulphur.... When the cover of night was used to hide these outrages, those walking along the river could hear the noisy monotone of dead bodies being dropped into the sea". A contemporary historian, who sailed with the punitive expedition, wrote that: "We invented another type of ship where victims of both sexes were piled up, one against the other, suffocated by sulphur".
Despite initial success, Leclerc fell victim to the yellow fever, which effectively destroyed the French army, and died in 1 November 1802, at the age of 30. He was succeeded in command by General Rochambeau, whose brutal racial warfare drove more leaders back to the rebel armies, including black and mulatto army officers Jean Jacques Dessalines, Alexandre Pétion and Henri Christophe. On 18 November 1803, François Capois defeated Rochambeau's forces in the Battle of Vertières. Dessalines proclaimed the independence of Haïti and its new name on 1 January 1804. In the meantime Leclerc's body had been transported to France by his widow and buried on one of his estates.
A statue at Pontoise shows Leclerc in Napoleonic uniform, his scabbard touching the earth. It was put up by marshal Davout and his second wife (Leclerc's sister) at the top of a staircase built in 1869 by François Lemot. Around 3m high, the statue is on a square stone pedestal inscribed with information on him in gold majuscule letters. It adjoins the south side of city's cathedral. There is also a statue of him by Jean Guillaume Moitte in the Pantheon de Paris.