Italian Campaign
March of Suvorov through the Alps by Vasily Surikov.

Some attributes

First
Date: 1799–1801
Second
Location: Bavaria, Northern Italy, Switzerland
Third
Result: French Victory

Other attributes

Fourth
Belligerents: French Republic - Austria, Russia
The Italian Campaign was part of the War of the Second Coalition. Under the overall command of the Russian General Alexander Suvorov, a combined Austro-Russian fought against French forces in Piedmont, Lombardy and Switzerland. Although they were able to gain some victories, Russia withdrew from the coalition after the defeat in the Second Battle of Zürich.
In 1800, Napoleon crossed the Alps and defeated the Austrians in the Battle of Merengo. The French, despite being surprised at the start of the battle, were able to overcame General Michael von Melas's surprise attack near the end of the day, driving the Austrians out of Italy, and enhancing Napoleon's political position in Paris as First Consul of France in the wake of his coup d'état the previous November.
An other French victory at the Battle of Hohenlinden ended the War of the Second Coalition. In February 1801, the Austrians signed the Treaty of Lunéville, accepting French control up to the Rhine and the French puppet republics in Italy and the Netherlands.
Suvorov's Italian and Swiss expedition
Edit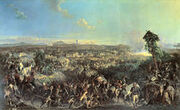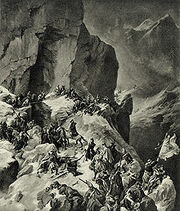 Although by 1799 he was nearly seventy years old, Suvorov was one of the great soldiers of the age. He had won no fewer than sixty-three battles in the course of his long military career. He had been appointed field marshal during the reign of Catherine the Great, though he was dismissed by Tsar Paul, her son and successor, after the old soldier had the audacity to criticise the new imperial Infantry Code. He was only recalled after the Austrians specifically requested that he be appointed to command the combined Austro-Russian army to fight the French in Italy.
Taking command on 19 April, Suvorov moved his army westwards in a rapid march towards the Adda River; covering over 300 miles in just eighteen days. On 27 April, he defeated Jean Victor Moreau at the Battle of Cassano. Soon afterward, Suvorov wrote to a Russian diplomat: "The Adda is a Rubicon, and we crossed it over the bodies of our enemies." On 29 April he entered Milan. Two weeks later, he moved on to Turin, having defeated Moreau yet again at Marengo. The king of Sardinia greeted him as a hero and conferred on him the rank of "Prince of the House of Savoy", among other honors.
From Naples, General MacDonald moved north to assist Moreau in June. Trapped between two armies, Suvorov took the bold decision to concentrate his whole force against MacDonald, beating the French at the Trebbia River, close to the spot of Hannibal's great victory in 218 BC. Marching back to the north, the indomitable soldier chased the whole French Army of Italy back towards the Riviera, taking the powerful fortress of Mantua on 28 July.
Moreau was relieved of command, to be replaced by Joubert. Pushing through the Bocchetta Pass, Joubert was defeated and killed in battle with Suvorov at Novi to the north of Genoa. Years later when Moreau, who was also present at Novi, was asked about Suvorov, he replied "What can you say of a general so resolute to a superhuman degree, and who would perish himself and let his army perish to the last man rather than retreat a single pace".
As so often, the successful soldier was defeated not in battle, but by the intrigues of politicians. The Austrians and British, made distrustful by the success of the Russians in Italy, frustrated Suvorov's plan for an advance into France. Instead the emphasis switched to the campaign in the Low Countries.
Despite all of his protests, Suvorov was ordered by Emperor Paul to transfer his troops to Switzerland, where they came under the command of the incompetent Alexander Korsakov, who was defeated by Andre Massena at the Second Battle of Zürich. Massena, with 80,000 men at his disposal, then advanced on Suvorov's remaining force of 18,000 regulars and 5,000 Cossacks and Kalmyks. Suvorov could either retreat or be destroyed.
Avoiding Massena, the Russian commander withdrew on 6 October through the Panixer Pass, and then upwards into the 9,000 foot mountains of the Bündner Oberland, by then deep in snow. Massena was convinced that he would be trapped there and forced to surrender. Desperately ill-equipped and short of supplies, Suvorov nevertheless pushed on, finally reaching Chur on the Rhine with the bulk of his army intact.
As he watched his ragged and starving soldiers march into camp the old soldier declared that "The Russian eagles outflew the Roman eagles," referring to his Hannibal-like crossing of the snow-capped Alps. Although he succeeded in rescuing his army and did not lose a single battle, Suvorov's spectacular manoeuvring in Italy and Switzerland proved altogether useless. He was promoted to the rank of Generalissimo, the fourth in all of Russian history, and was recalled to Saint Petersburg by the jealous Paul.
Battle of Marengo
Edit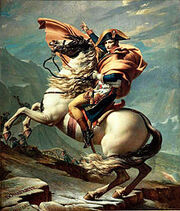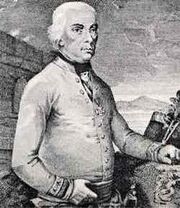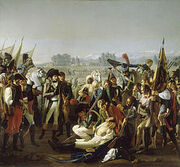 Melas, who replaced Suvorov as commander of Coalition forces in Italy, paused the offensive and consolidated his forces. By the spring of 1800 Russia had withdrawn entirely from the Coalition. The situation in Italy, however, was still very much on the side of the Coalition. Melas had some 100,000 men under his command, opposed by just 50,000 French troops who were thoroughly dispersed. The Allies prepared for a thrust into southern France and across the Rhine, much further north. Melas moved forward slowly, laying siege to Genoa and halted his advance elsewhere.
It was at this time that the First Consul of France, Napoleon Bonaparte (who had seized French power in the Brumaire Coup of 9 November 1799) led his Reserve Army through the Great St Bernard pass with the aim of relieving Masséna in the Siege of Genoa, who was threatened by severe food shortages resulting from the combination of encirclement on land and naval blockade by the British.
Genoa fell before the First Consul could reach it. He concentrated his army and struck at the Austrians in an attempt to beat them before they too concentrated their forces again. After cutting Melas's line of communications by crossing the river Po and defeating Feldmarschallleutnant (FML) Peter Karl Ott von Bátorkéz at Montebello on 9 June, the French closed in on the Austrian army, which had massed in Alessandria. Deceived by a local double agent, Bonaparte dispatched large forces to the north and south, but the Austrians launched a surprise attack on 14 June against the main French army under General Louis Alexandre Berthier.
Initially, their two assaults across the Fontanone stream near Marengo village were repelled, and General Jean Lannes reinforced the French right. Bonaparte realised the true position and issued orders at 11:00 am to recall the detachment under Général de Division (GdD) Louis Desaix, while moving his reserve forward. On the Austrian left, Ott's column had taken Castel Ceriolo, and its advance guard moved south to attack Lannes's flank. Melas renewed the main assault and the Austrians broke the central French position. By 2:30 pm the French were withdrawing and Austrian dragoons seized the Marengo farm. Bonaparte had by then arrived with the reserve, but Berthier's troops began to fall back on the main vine belts. Knowing Desaix was approaching, Bonaparte was anxious about a column of Ott's soldiers marching from the north, so he deployed his Consular Guard infantry to delay it. The French then withdrew steadily eastward toward San Giuliano Vecchio as the Austrians formed a column to follow them in line with Ott's advance in the northern sector.
Desaix's arrival around 5:30 pm stabilised the French position as the 9ème Légère (9th Light Infantry) delayed the Austrian advance down the main road and the rest of the army re-formed north of Cascina Grossa. As the pursuing Austrian troops arrived, a mix of musketry and artillery fire concealed the surprise attack of Général de Brigade (GdB) François Étienne de Kellermann's cavalry, which threw the Austrian pursuit into disordered flight back into Alessandria, with about 9,400 killed, wounded, or captured. The French casualties were considerably fewer, but included Desaix. The whole French line chased after the Austrians to seal une victoire politique (a political victory) that secured Bonaparte's grip on power after the coup. It would be followed by a propaganda campaign, which sought to rewrite the story of the battle three times during Napoleon's rule.
German Campaign
Edit
From April to July 1800, Moreau's army hustled the Austrian army of Feldzeugmeister (FZM) Pál Kray from the Rhine River to the Inn River after victories at Stockach, Messkirch, and Höchstädt. On 15 July, the combatants agreed to an armistice. Realizing that Kray was no longer up to the task, Emperor Francis II removed him from command. The Austrian chancellor Johann Thugut first offered Archduke Ferdinand and Archduke Joseph, Palatine of Hungary, command of the army but both declined. Because his brother, the capable Feldmarschall Archduke Charles, Duke of Teschen, also refused the command, the emperor appointed another brother, the 18-year-old Archduke John. Clearly, the inexperienced youth could not cope with this enormous responsibility, so the emperor nominated Franz von Lauer as John's second-in-command and promoted him to Feldzeugmeister. John was directed to follow Lauer's instructions. To further complicate the clumsy command structure, the aggressive Oberst (Colonel) Franz von Weyrother was named John's chief-of-staff.
The armistice was renewed in September but lapsed on 12 November. By this time, Weyrother had convinced John and Lauer to adopt an offensive posture. Weyrother's plan called for crushing the French left wing near Landshut and lunging south to cut Moreau's communications west of Munich. After a few days of marching, it became obvious that the Austrian army was too slow to execute such an ambitious plan. So Lauer convinced the archduke to convert the enterprise into a direct attack on Munich. Even so, the sudden advance caught Moreau's somewhat scattered French forces by surprise and achieved local superiority.
In the Battle of Ampfing on 1 December, the Austrians drove back part of MG Paul Grenier's Left Wing. The defeated French managed to inflict 3,000 casualties on the Austrians while only suffering 1,700 losses. Yet, when the Austrian leaders found that Grenier evacuated Haag in Oberbayern the next day, they became ecstatic. Archduke John and Weyrother overrode Lauer's cautious counsel and launched an all-out pursuit of an enemy they believed to be fleeing. However, Moreau decided to stand and fight, deploying his army in open ground near Hohenlinden. To approach his position, the Austro-Bavarians had to advance directly west through heavily wooded terrain.
Battle of Hohenlinden
Edit
All Austrian columns started at dawn. Marching on the all-weather highway, Kollowrat's column made good time despite heavy snow. At 7:00 am, his advance guard under General-Major Franz Löpper collided with Colonel Pierre-Louis Binet de Marcognet's 108th Line Infantry Demi-Brigade of Grouchy's division. Defending deep in the forest, the 108th held their ground at first. But, General-Major Lelio Spannochi sent a grenadier battalion in a flank attack and drove the French back. Kollowat committed General-Major Bernhard Erasmus von Deroy's Bavarian brigade and a second grenadier battalion to keep the attack rolling.
As the Austrians burst from the tree line, Grouchy led a powerful infantry and cavalry counterattack. Kollowrat's troops reeled back as the 11th Chasseurs à cheval Regiment broke a square of grenadiers and the 4th Hussar Regiment overran an artillery battery. Both Spannochi and the wounded Marcognet became prisoners. Having lost five cannons, Kollowrat decided to suspend his drive until Latour and Riesch came up on his flanks. Anxious about his open left flank, he sent two grenadier battalions back in search of Riesch's column.
To the north, Kienmayer flushed French outposts from Isen. These executed a planned withdrawal westward to Grenier's main line of defense. FML Prince Karl of Schwarzenberg, who led Kienmayer's left division, pushed southwest to crash into the divisions of Bastoul and Ney. An Austrian force captured the town of Forstern, but Moreau committed d'Hautpoul's reserve cavalry to help drive them out. A back and forth struggle began over the hamlets of Tading, Wetting, Kreiling, and Kronacker, which run in a north to south line. The Austrian Murray Infantry Regiment # 55 distinguished itself in the fighting for Kronacker, which lies only 1.3 km north of Hohenlinden. On the far north flank, FML Archduke Ferdinand's division began coming into action against Legrand near the town of Harthofen.
Latour, moving along muddy forest trails amid snow and sleet squalls, fell badly behind schedule. At 10:00 am, his column was still well to the rear of Kollowrat's corps. By this time, the gunfire from Kienmayer's and Kollowrat's combats could be clearly heard to the front. Even more disturbing were sounds of battle from the south. Latour made the extraordinary decision to divide the divisions of FML Prince Friedrich of Hessen-Homburg and FML Friedrich Hohenlohe-Ingelfingen into small task forces. He sent one infantry battalion and six cavalry squadrons to the north to look for Kienmayer. One battalion and four squadrons marched south to find Kollowrat. After advancing the bulk of his column to the village of Mittbach, Latour sent two battalions and two squadrons to assist Schwarzenberg's attack and three battalions and an artillery battery to help Kollowrat. This left him with only three battalions and six squadrons
Like Latour, Riesch's troops had to contend with terrible roads and snow squalls. They fell far behind Kollowrat, reaching Albaching only at 9:30 am. Consequently, Richepanse's division passed in front of Riesch. Near the village of St. Christoph, the two Austrian grenadier battalions sent by Kollowrat stumbled upon Richepanse's marching column, cutting his division in half. With single-minded determination, the Frenchman left his rear brigade under BG Jean-Baptiste Drouet to fight it out and drove to the north with his leading brigade.
With the 8th Line DB and 1st Chasseurs à cheval leading, Richepanse seized the village of Maitenbeth and advanced to the main highway. There he confronted elements of FML Prince Johann of Liechtenstein's cavalry division. Leaving his two advance units to bear the brunt of GM Christian Wolfskeel's cuirassier charges, Richepanse wheeled the 48th Line DB west onto the highway. Aware that this route took him directly into Kollowrat's rear area, he formed the demi-brigade's three battalions side by side with skirmishers protecting the flanks. Hearing firing to the east, Weyrother gathered up three Bavarian battalions from Kollowrat's column and sent them to investigate. These units moved to the southeast and became embroiled in the fight with Drouet. Two more Bavarian battalions under GM Karl Philipp von Wrede now appeared and blocked Richepanse's path. After a brief fight, the 48th overwhelmed Wrede's men and Weyrother fell wounded.
Riesch's patrols told him that two French divisions were in the area. Instead of pushing into the combat raging to his front, he cautiously decided to wait for his stragglers to arrive at Albaching. He then fell into the same error as Latour. Dividing his two powerful divisions under FML Ignaz Gyulai and FML Maximilian, Count of Merveldt into five small columns, he sent each forward on a separate forest trail. Riesch held back three battalions and most of his cavalry as a reserve.
At 11:00 am, Decaen came up in support of Drouet's brigade near the southern edge of the battlefield. The situation was very fluid, with units blundering into each other in a heavy snowfall. The fresh infusion of French troops finally broke through the opposition. Drouet led his troops north to the highway, where the 8th Line still battled Liechtenstein's cavalry. Spearheaded by the Polish Danube Legion, Decaen turned east to grapple with Riesch. Decaen's men overcame Riesch's small columns one by one and pushed them back to the heights of Albaching. The Austrian managed to hold onto his hilltop position and capture 500 French soldiers while suffering 900 casualties.
Scenting victory, Moreau ordered Grenier's divisions and Grouchy to attack around noon. Undeterred by Latour's weak pressure on his front, Ney swung to his right and began pounding Kollowrat's troops. Pressing his attack, he overran their positions, capturing 1,000 soldiers and ten cannon. Grouchy also returned to the offensive. Hemmed in on three sides by Ney, Grouchy and Richepanse, Kollowrat's column finally disintegrated in a disorderly rout. Archduke John escaped capture on a fast horse, but many of his men were not so lucky and thousands of demoralized Austrians and Bavarians surrendered. In addition, over 60 artillery pieces fell into French hands.
Latour learned of the Left Center Column's fate when its fugitives flooded the nearby woods. Abandoning his position, he retreated to Isen, leaving Kienmayer to fend for himself. When Kienmayer got news of Kollowrat's destruction, he ordered his division commanders to fall back. After a brief fight against Legrand on the north flank, Archduke Ferdinand pulled back with GM Karl Vincent's dragoon brigade covering his withdrawal. Legrand reported fewer than 300 casualties while rounding up 500 prisoners and three guns. Thanks to Schwarzenberg's able combat leadership, his division escaped a very tight spot. At one point, a French officer came forward under a flag of truce to demand his surrender. But the Austrian successfully disengaged his command and brought them to safety that evening without the loss of a single cannon.
The Austrians reported losses of 798 killed, 3,687 wounded, and 7,195 prisoners, with 50 cannons and 85 artillery caissons captured. Bavarian casualties numbered only 24 killed and 90 wounded, but their losses also included 1,754 prisoners, 26 artillery pieces, and 36 caissons. In round numbers, this amounts to 4,600 killed and wounded, plus 8,950 soldiers and 76 guns captured. The French admitted casualties of 1,839 soldiers, one cannon, and two caissons. Since several units failed to turn in reports, Moreau's army probably lost at least 3,000 men. Bastoul was mortally wounded.
Archduke John ordered his demoralized army into a retreat. Moreau pursued slowly until 8 December. Then, in 15 days, his forces advanced 300 km and captured 20,000 Austrians. MG Claude Lecourbe's Right Wing brushed aside Riesch at Rosenheim on 9 December. At Salzburg on 14 December, the archduke held off Lecourbe in a successful rearguard action. However, in a series of actions at Neumarkt am Wallersee, Frankenmarkt, Schwanenstadt, Vöcklabruck, Lambach and Kremsmünster during the following week, the Austrian army lost cohesion. Richepanse greatly distinguished himself in the pursuit. On 17 December, when Archduke Charles relieved his brother John, the Austrian army was practically a rabble. With French forces 80 km from Vienna, Charles requested an armistice, which Moreau granted on 25 December. In February 1801, the Austrians signed the Treaty of Lunéville, accepting French control up to the Rhine and the French puppet republics in Italy and the Netherlands.