Salim Idris
Salim Idris

Some attributes

First
Name: Salim Idris
Second
Position: Brigadier general
Third
Nationality: Syrian

Other attributes

Fourth
Allegiance: Free Syrian Army
Fifth
Born: c. 1957
Sixth
Age: 56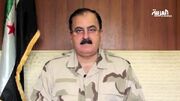 Brigadier General Salim Idris (born c. 1957) is the Chief of Staff of the Supreme Military Council (SMC) of the Free Syrian Army, which is the main Syrian armed opposition group. A German-trained electronics professor, he was a general in the Syrian Army when he defected in July 2012. General Idris is widely considered to represent the moderate elements of Syria's armed opposition, as armed opposition leaders under his leadership have subscribed to the pro-democracy Proclamation of Principles.
General Idris was elected as the Chief of Staff of the Supreme Military Council following its establishment in a conference held in Turkey on December 15, 2012. At the conference, over 550 members of the Syrian revolutionary council, brigades, and battalion commands elected 261 representatives to form the Revolutionary Force Authority. Thirty members were elected to form the SMC, which includes five combat Fronts covering Syria's 14 provinces.
General Idris has become increasingly engaged with soliciting aid from Western nations since his initial request of specialized training and non-lethal material support from the United States in February 2013. On April 30, 2013 the United States began deliveries of ready-to-eat rations and Warrior Aid and Litter Kits (WALK) to the Free Syrian Army under the oversight of General Idris, in what was the first U.S. delivery of tangible aid to Syria's armed opposition.
General Idris has issued letters and statements to Secretary of State John Kerry, President Barack Obama, and the United Nations Security Council to encourage international intervention and support in the ongoing Syrian civil war. In a June 8, 2013 interview with the New York Times, Idris outlined that continued international support for the Free Syrian Army, including "game-changing weapons" were required as a precondition for his attendance at planned negotiations with Bashar al-Assad in Geneva.
In 12 September 2013, General Idris appeared on US radio to flatly contradict claims that CIA weapons were beginning to reach the battlefield. "We were waiting and are still waiting to receive weapons and ammunition and we told our friends in the US that we hope you will support us", Gen Idris told National Public Radio. He also condemned the Russian initiative to oversee the destruction of Syria's chemical arsenal, telling Time that President Vladimir Putin was "a terrorist" and "a liar" for supporting the Assad regime. The commander directly denied claims by anonymous US officials in the Washington Post, who said that light weapons had begun moving into Syria two weeks ago. Gen Idris said that while his fighters had received bullet-proof vests, light vehicles and night vision goggles there had been "no direct military support".
He added that his fighters were most in need of anti-tank and anti-aircraft missiles, which Washington has been reluctant to supply out of fear they would fall into the hands of extremists. The Sunni Gulf Arab states have been freer in their supply of weapons to Islamist groups, leaving the moderate rebels sometime struggling to attract support. General Idris said the US decision to hold off on strikes had made it "very difficult" to maintain morale and that his forces had been poised to attack regime troops as soon as the cruise missiles struck. "Our people are very frustrated and they think that our friends will leave us alone", he said.