Sun Tzu
Statue of Sun Tzu in Yurihama, Tottori, in Japan.

Some attributes

First
Name: Sun Tzu
Second
Position: Qing Military Commander, Viceroy of Liangjiang
Third
Nationality: Chinese

Other attributes

Fourth
Allegiance: Qing Dynasty
Fifth
Born: 544 BC
Sixth
Died: 496 BC
Sun Tzu or Sunzi was a Chinese military general, strategist, and philosopher during the Zhou dynasty's Spring and Autumn Period. The name he is best known by is an honorific meaning "Master Sun": Sun Tzu was born as Sun Wu and known outside his family by the style name Changqing. He is traditionally credited as the author of The Art of War, an extremely influential ancient Chinese book on military strategy. Sun Tzu has had a significant impact on Chinese and Asian history and culture, both as the author of The Art of War and as a legendary historical figure.
Sun Tzu's work has been praised and employed throughout East Asia since its composition. During the twentieth century, The Art of War grew in popularity and saw practical use in Western society as well. It continues to influence many competitive endeavors in Asia, Europe, and America including culture, politics, business, and sports, as well as modern warfare.
Sun Tzu was born in the late Spring and Autumn Period and that he was active as a general and strategist, serving the king of Wu Ho-Lu in the late sixth century BC, beginning around 512 BC. Sun Tzu's victories then inspired him to write The Art of War. The Art of War was one of the most widely read military treatises in the subsequent Warring States period, a time of constant war among seven nations – Zhao, Qi, Qin, Chu, Han, Wei, and Yan – who fought to control the vast expanse of fertile territory in Eastern China.
One of the more well-known stories about Sun Tzu, taken from Sima Qian, illustrates Sun Tzu's temperament as follows: Before hiring Sun Tzu, the King of Wu tested Sun Tzu's skills by commanding him to train a harem of 180 concubines into soldiers. Sun Tzu divided them into two companies, appointing the two concubines most favored by the king as the company commanders. When Sun Tzu first ordered the concubines to face right, they giggled. In response, Sun Tzu said that the general, in this case himself, was responsible for ensuring that soldiers understood the commands given to them. Then, he reiterated the command, and again the concubines giggled. Sun Tzu then ordered the execution of the king's two favored concubines, to the king's protests. He explained that if the general's soldiers understood their commands but did not obey, it was the fault of the officers. Sun Tzu also said that, once a general was appointed, it was his duty to carry out his mission, even if the king protested. After both concubines were killed, new officers were chosen to replace them. Afterwards, both companies, now well aware of the costs of further frivolity, performed their maneuvers flawlessly.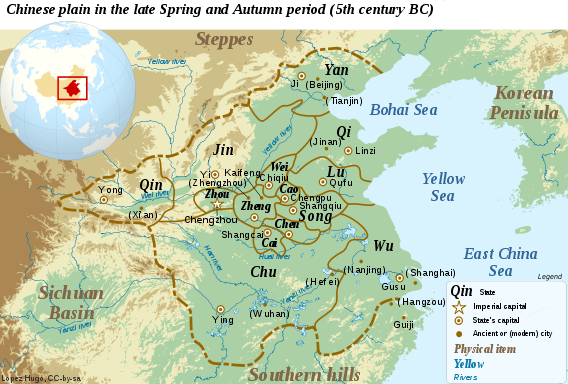 In the decisive Battle of Boju, Sun-Tzu led the Wu forces with King Ho-Lu, along with Ho-Lu's brother Fugai, and defeated the Chu forces through use of his tactics. In The Art of War, Sun-Tzu writes:
"Though according to my estimate the soldiers of Chu exceed our own in number, that shall advantage them nothing in the matter of victory. I say then that victory can be achieved. Though the enemy be stronger in numbers, we may prevent him from fighting. Scheme so as to discover his plans and the likelihood of their success. Rouse him, and learn the principle of his activity or inactivity. Force him to reveal himself, so as to find out his vulnerable spots. Carefully compare the opposing army with your own, so that you may know where strength is superabundant and where it is deficient. In making tactical dispositions, the highest pitch you can attain is to conceal them; conceal your dispositions, and you will be safe from the prying of the subtlest spies, from the machinations of the wisest brains. How victory may be produced for them out of the enemy's own tactics--that is what the multitude cannot comprehend." (Sun-Tzu, 6.21-26).
At Boju, the Chu forces were numerically superior to the Wu and King Ho-Lu hesitated to attack, though both armies were martialed on the field. Fugai requested that orders be given to sound the charge but Ho-Lu refused. Fugai then chose to act on his own in accordance with Sun-Tzu's strategic advice and drove the enemy from the field. He then pursued the fleeing opponents, defeating them repeatedly in five further engagements, and capturing the Chu capital of Ying.
Fugai's success in the Wu-Chu wars was due entirely to his own courage and his belief in the precepts of Sun-Tzu. Through intelligence brought by spies, Fugai knew that the opposing general, Nang Wa, was despised by his troops and that they had no will to fight (following Sun-Tzu's "force him to reveal himself…find out his vulnerable spots"), he compared his army with that of Nang Wa's and found it sufficient to his ends and he won victory from the enemy's own tactics by refusing to adhere to the standard rules of war as understood at that time. He did not let the enemy retreat to safety, did not allow them to cross en masse the Qingfa River (but cut the forces in half mid-stream), prevented their mobilization and formation of lines, and even later attacked them at their dinner.
Warfare in China was considered a kind of sport of the noble gentry in which chivalry prevailed and rules were not to be bent or broken. Prior to Boju (and for many years following) these rules were observed by the noble generals who led the armies of the various states of China.
Sun-Tzu changed the rules by applying Taoist principles to warfare and by refusing to consider war a sport. He wrote, "In war, then, let your great object be victory, not lengthy campaigns. Thus it may be known that the leader of armies is the arbiter of the people's fate, the man on whom it depends whether the nation shall be in peace or in peril" (2.19-20). Sun-Tzu had no patience with the protracted games generals seemed to enjoy playing with each other. Once hostilities had erupted, one's priority was to defeat the enemy, not indulge oneself in chivalry which could only prolong the conflict and cost more lives.
The Art of War
Edit
The Art of War (Chinese: trad. 孫子兵法, simp. 孙子兵法, pinyin Sūnzǐ Bīngfǎ, lit. "Master Sun's Rules for Soldiers") is a book on military strategy writen by Sun Tzu. It presents a philosophy of war for managing conflicts and winning battles. It is accepted as a masterpiece on strategy and is frequently cited and referred to by generals and theorists since it was first published, translated, and distributed internationally.
Of the military texts written before the unification of China and Shi Huangdi's subsequent book burning in the second century BC, six major works have survived. During the much later Song Dynasty, these six works were combined with a Tang text into a collection called the Seven Military Classics. As a central part of that compilation, The Art of War formed the foundations of orthodox military theory in early modern China. Illustrating this point, the book was required reading to pass the tests needed for imperial appointment to military positions.
According to the Simpkinses, Sun Tzu's Art of War uses language that may be unusual in a Western text on warfare and strategy. For example, the eleventh chapter states that a leader must be "serene and inscrutable" and capable of comprehending "unfathomable plans". They state that the text contains many similar remarks that have long confused Western readers lacking an awareness of the East Asian context. The meaning of such statements are clearer when interpreted in the context of Taoist thought and practice. Sun Tzu viewed the ideal general as an enlightened Taoist master, which has led to The Art of War being considered a prime example of Taoist strategy.
The book is not only popular among military theorists, but has also become increasingly popular among political leaders and those in business management. Despite its title, The Art of War addresses strategy in a broad fashion, touching upon public administration and planning. The text outlines theories of battle, but also advocates diplomacy and cultivating relationships with other nations as essential to the health of a state.
On April 10, 1972, the Yinqueshan Han Tombs were accidentally unearthed by construction workers in Shandong. Scholars uncovered a collection of ancient texts written on unusually well-preserved bamboo slips. Among them were The Art of War and Sun Bin's Military Methods. Although Han Dynasty bibliographies noted the latter publication as extant and written by a descendant of Sun, it had previously been lost. The rediscovery of Sun Bin's work is considered to be extremely important, both because of Sun Bin's relationship to Sun Tzu and because of the work's addition to the body of military thought in Chinese late antiquity. The discovery as a whole significantly expanded the body of surviving Warring States military theory. Sun Bin's treatise is the only known military text surviving from the Warring States period discovered in the twentieth century and bears the closest similarity to The Art of War of all surviving texts.
Sun Tzu's Art of War has influenced many notable figures. Sima Qian recounted that China's first historical emperor, Qin's Shi Huangdi, considered the book invaluable in ending the time of the Warring States. In the 20th century, the Chinese Communist leader Mao Zedong partially credited his 1949 victory over Chiang Kai-shek and the Kuomintang to The Art of War. The work strongly influenced Mao's writings about guerrilla warfare, which further influenced communist insurgencies around the world.
The Art of War was introduced into Japan c. AD 760 and the book quickly became popular among Japanese generals. Through its later influence on Oda Nobunaga, Toyotomi Hideyoshi, and Tokugawa Ieyasu, it significantly affected the unification of Japan in the early modern era. Prior to the Meiji Restoration, mastery of its teachings was honored among the samurai and its teachings were both exhorted and exemplified by influential daimyo and shoguns. Subsequently, it remained popular among the Imperial Japanese armed forces. The Admiral of the Fleet Tōgō Heihachirō, who led Japan's forces to victory in the Russo-Japanese War, was an avid reader of Sun Tzu.
Ho Chi Minh translated the work for his Vietnamese officers to study. His general Vo Nguyen Giap, the strategist behind victories over French and American forces in Vietnam, was likewise an avid student and practitioner of Sun Tzu's ideas.
America's Asian conflicts against Japan, North Korea, and North Vietnam brought Sun Tzu to the attention of American military leaders. The Department of the Army in the United States, through its Command and General Staff College, has directed all units to maintain libraries within their respective headquarters for the continuing education of personnel in the art of war. The Art of War is mentioned as an example of works to be maintained at each facility, and staff duty officers are obliged to prepare short papers for presentation to other officers on their readings. Similarly, Sun Tzu's Art of War is listed on the Marine Corps Professional Reading Program. During the Gulf War in the 1990s, both Generals Norman Schwarzkopf Jr. and Colin Powell employed principles from Sun Tzu related to deception, speed, and striking one's enemy's weak points.
Mark McNeilly writes in Sun Tzu and the Art of Modern Warfare that a modern interpretation of Sun and his importance throughout Chinese history is critical in understanding China's push to becoming a superpower in the twenty-first century. Modern Chinese scholars explicitly rely on historical strategic lessons and The Art of War in developing their theories, seeing a direct relationship between their modern struggles and those of China in Sun Tzu's time. There is a great perceived value in Sun Tzu's teachings and other traditional Chinese writers, which are used regularly in developing the strategies of the Chinese state and its leaders.
In 2008, producer Zhang Jizhong adapted Sun Tzu's life story into a 40-episode historical drama television series entitled Bing Sheng, starring Zhu Yawen as Sun Tzu.